Meet an exclusive member of the Endeavour family… in a striking hue that's a star in the Moser color palette. A collection with a uniquely elegant approach to minimalism, the Endeavours are contemporary classics that embody the essence of 'less-is-more' simplicity. And this blue beauty is no exception – with state-of-the art complications, this Minute Repeater Tourbillon is also a real work of art, well-suited to the true connoisseur.
Balletic Beauty
And like any rare masterpiece, this timepiece combines inspiration and skill in perfect measure. As well-choreographed as the Ballets Russes, as svelte and streamlined as Nureyev himself, as subtly coordinated as the New York Philharmonic, this Great Blue Wonder lifts the spirit to soaring heights and hits all the right notes along the way. A one-minute flying tourbillon floats at 6 o'clock with the weightlessness of an arabesque, set against a pure Electric Blue dial stripped clean of both logo and indices. Finished with a strap in black alligator leather, which adds a final note of glamour, this unconventional timepiece (issued in a limited edition of 20 pieces) is an inspired expression of the Endeavour's gracefully understated style.
Great Minds Think Alike
To orchestrate this aesthetic and technical marvel, H. Moser & Cie.  joined forces with Timeless SA, a world-renowned specialist in minute repeaters. Showcasing the watch's clever complications in this truly exceptional design (by positioning the chimes and hammers on the dial side) required great technical innovation to meet the many challenges presented. In order to preserve its refined, slender profile and prevent interference with the flying tourbillon, each chime had to be curved in shape to remain flush on a single level.
You can see this wonder in action here, in our video of the Endeavour Concept Minute Repeater Tourbillon.
A Symphony on your Wrist
Meanwhile, the sliding bolt is fitted on a Teflon runner to create the ultimate smooth movement, built into the main plate to save space, while the center of the case has been widened to house the movement and allow the space to create a soundbox. Carefully proportioned, the soundbox enhances the effect of the gongs, which are struck by two hammers that chime for hours, quarter-hours and minutes. The geometry of the lightweight titanium case has been designed to amplify the resonance chamber, creating a beautiful sound that offers amplitude, length and a note pure enough to please even the most refined of symphony conductors.
Exquisite timing is essential to any maestro – whether your genius is for Beethoven or the boardroom. Either way, you're sure to be inspired by this Endeavour's Blue Period for years to come.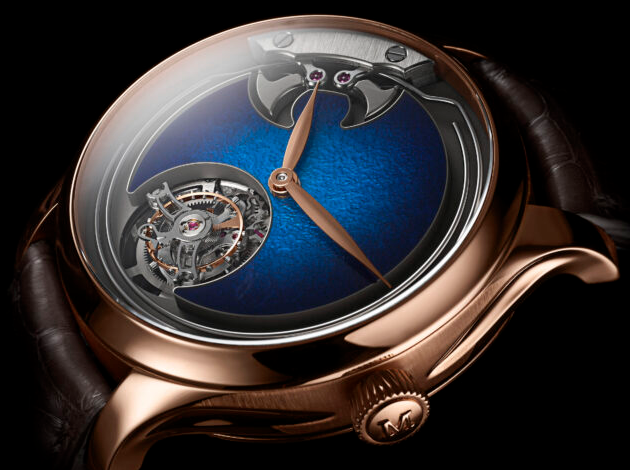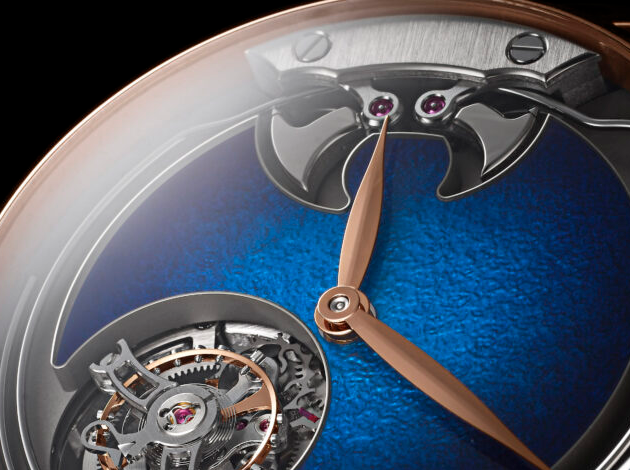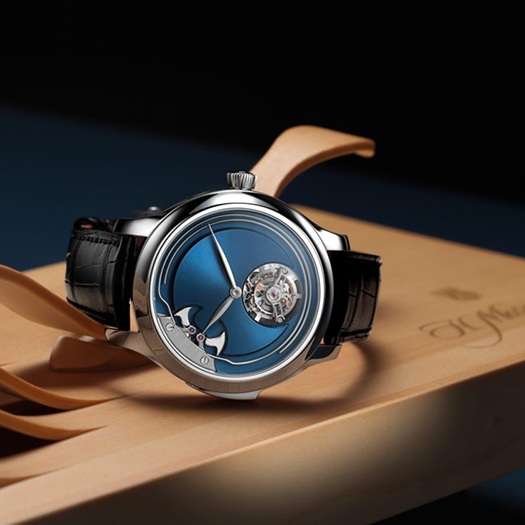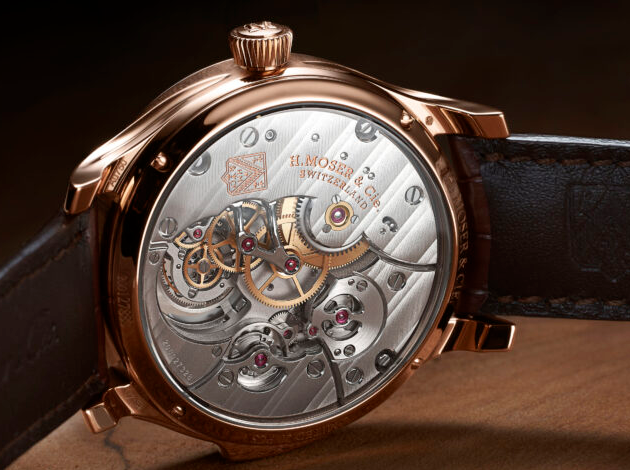 Endeavour Concept Minute Repeater Tourbillon in Electric Blue.